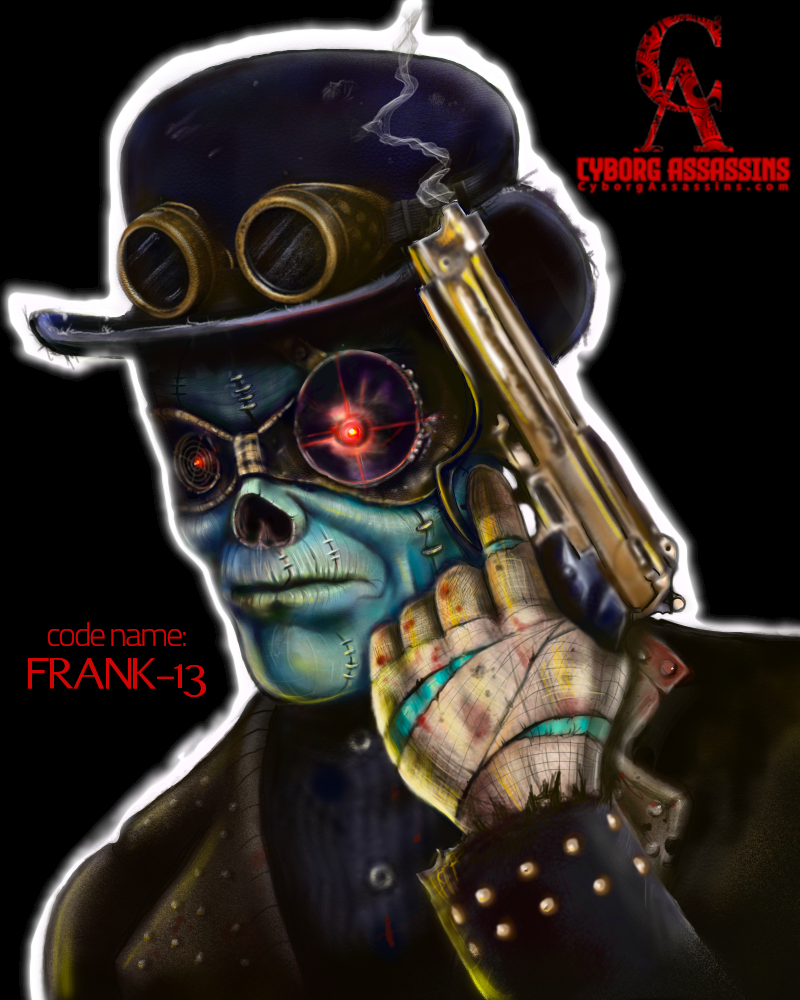 Cyborg Assassins would like to thank our friend and amazing artist Shaun Kama from Halloween Tattoos for creating the original likeness of our official mascot FRANK-13. We could not be happier about this amazing artwork to represent this project and we will be using this image as the basis of our initial NFT drop which has been pushed to January to coincide with the release of our next single, Dance of the Dead. Steampunk Woman NFTs will launch later in 2022. In the meantime, here is a little more about who FRANK-13 is and what his mission is.
Origin Story:
In the year 2367 the American Federation of States, which comprised the government of North and South America, commissioned a Top Secret program to combat the rising number of Cyborg war machines. For decades these AI enabled machines had been disrupting the fabric of society by infiltrating the government, military organizations and high profile technology companies by posing as human beings and other machines. The impact to human life and economic stability was catastrophic and a number of unintended wars resulted from Cyborg warfare activities.
The new AFS program was responsible for the production of 10,000 Cyborg Assassins, code named FRANK, a tribute to a classic literary character by the name of Frankenstein. It was not a coincidence that the FRANK program began on Halloween of that year.
Over the course of the next 20 years, the Frank series of Cyborg Assassins were very effective at eliminating the Cyborg Threat and ushering in a new era of peace and political stability.. The most famous of the Cyborg Assassins, FRANK-13, was involved in a number of high profile assassinations that saved countless human lives. Now in the year 2387, FRANK-13 continues to fight against the enemies of the AFS where ever they pose the greatest risk to human beings of all nations.